Buttons design / Technical info
Technical information about the button size and bleed


* If you make a button design, you should keep in mind 2 things:  button size & bleed. Look further below for this information.
* How to make the different button variants with a button machine? (instruction manual)
* We can also adapt, print and cut your design, ready to make buttons.


Button Size
The buttonsize is the real diameter of the button. Everything within this area will be shown on the front side of the button.


Bleed
The bleed is the extra area around the buttonsize. This bleed is not visible on the front side of the button, it goes on the side and inside of the button.
Following illustration will make everything clear:



The bleed is different for all button sizes: 
25mm: bleed 33,5mm
32mm: bleed 41,5mm
38mm: bleed 46,5mm
44mm: bleed 53,0mm 
56mm: bleed 66,5mm
75mm: bleed 88,0mm
88mm: bleed 101,6mm
Examples
The next images show some examples of what you should keep in mind: 

This is an example of a 25mm button with a 33,5mm bleed. 



Make sure your image is in the center of the buttonsize, otherwise some parts may fall off the front side. 



If you don't want white parts showing as in the example on the right, make your bleed have the same background color.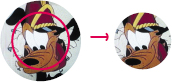 When using a photo also try to include extra bleed to avoid cutting off faces or important information. 

Extra smooth edges on your buttons?
To get extra smooth edges on your buttons and to avoid air bubbles on the sides you could limit the printed zone to where the paper disappears into the buttons. More about this and sizes to use can be found on this page of our FAQ. PS:  If you just order prints or get the buttons made by us, don't worry about this, we'll fix this zone for you!


Image Files
You can deliver your images in: .pdf, .eps, .ai, .tif, .psd, .jpg, ... Make sure your images have a minimal resolution of 300dpi. The images supplied do not always have to have the circular shape as you see above. You can safely send a square image of which the middle part is then used as an image.

You have a great idea but you can't turn it into something visual? Or do you just need an idea?  LickMyButton has a few designers in house that can create a strong idea and turn it into something visual. These designers can take on any task you name: buttons, stickers, flyers, invitations... Your idea is in good hands here.  Contact us with your idea or concept and you will have a great design in no time.